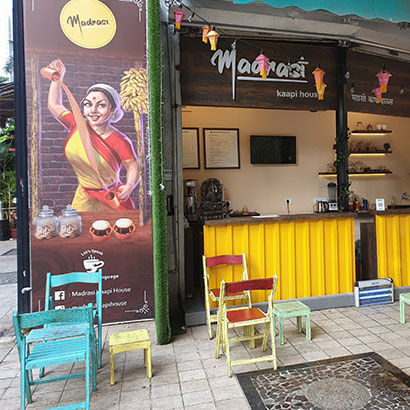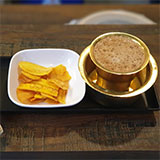 It Started, Quite Simply, Like This...
Mumbai is about energy and creativity, and Madrasi Kaapi House exists to inspire and energize Mumbaikars. Our obsession with great coffee comes from growing up in South Indian families, which has had an irreplaceable coffee culture for generations. We opened our cafe in Thakur Village, Kandivli, our Flagship Store, as homage to the legacy and traditions of Southern India. And we're based in Mumbai because it's a city that rewards excellence, which is what we strive for in every coffee we serve.
Mission...
Build a beautiful hamlet for friends & family where memories are seasoned with the aromas of authentic South Indian filter coffee, fragrance of spice from Amma's kitchen and a heap of love from the interiors of South India.
About Us...
Follow your Passion and Success will follow, was the Mantra and Nari Shakti, the core strength of Madrasi Kaapi House. Simran Venkat & Smita Alke, both successful Homemakers and Friends from humble backgrounds, wanted to collaborate and accomplish more in life. The idea was enough to ignite the fire in Venkat's long brewing passion for an Authentic Filter Coffee Station in the Suburbs that lacked the true blue South India touch & feel. An evening over a glass of Drink and thus was born, Madrasi Kaapi House.
Madrasi Kaapi House is the perfect place to blow off a little steam and catch up on a cup of Hot Filter Coffee. This 'casual yet European style open to sky' Cafe has everything you need to wrap up your work week & kick off your weekend.
Promise...
If one would want to re-live the typical South Indian Coffee experience, dip into some homemade authentic delicacies of the interiors of South India then follow your heart to Madrasi Kaapi House, a beautiful little hamlet where the chattering host can be heard from across the counter, in a light hearted conversation.
Learn More
See the Menu!
"If you're ever in the neighbourhood, definitely visit Madrasi Kaapi House for their filter coffee and delicious food. I haven't yet come by an item on their menu that I have not liked. Apart from the unquestionably good food and drink, I visit Madrasi Kaapi House as often as I do for the easy friendly vibe the place has. Smita and Simran are very friendly and hospitable, as is their super efficient Javed who makes a mean Iced Coconut Water Kaapi drink…"

Neha Dani ( Illustrator n Graphic Artist )
"The best on the menu is the ever brewing warmth of the people who run this house..er..home; come home to know how Kaapi is different from Coffee!"

Manohar Nayak ( Managing Director - Lingo India Pvt Ltd. )
"Log kehte hain, "naam mei kya rakha hai?".. But this outlet has proved its name & it's popularity in Thakur Village in a very short time span..'MADRASI KAAPI HOUSE', Authentic 'South Indian' snacks & Amazing Filter Coffee… Nice joint to share some good time with friends…!"

Sanjay Keni ( Actor, Voice n Mimicry Artist )
"Love the quality and hygiene maintained. Totally VFM. Good South Indian Fare. Decently priced. Must visit. Love the laddoos and the bajra and ragi cookies. perfect taste and addictive. Don't miss the murukku and other snacks on offer too.!"

Samuel Muliyil ( Managing Director - Cargosol Logistics Pvt Ltd. )
"I have been a regular at madrasi kaapi since it's inception. It provides premium products at the right price. Their filter coffee is one of the best that i have ever had. Not just the staff but also the owners go above and beyond their duties to make sure each and every customer is well taken care of. Their genuine warm hearted humanity comes through in every interaction. I have felt a homely comfort and warmth at this place which has enhanced the overall experience of the food. Deep gratitude for the care and the wonderful memories. I wish their success keeps increasing exponentially with time. I wish everyone at madrasi kaapi well. Keep up the good work.!"

Ruchit Dave ( Doctor )
"Always a good time here. Delicious authentic filter kaapi. Interesting contemporary versions too. Idlis and dosa with the masala transports you right to the south. And very reasonably priced! Can't get enough.!"

Benish Augustine ( Co-Founder, Vulcan Consultants )
Durgamma
In a culture where the only word to describe strength and power is Feminine - the Shakti, Durgamma, Madrasi Kaapi House's mascot embodies the attributes of Nari Shakti. She is the epitome of strength, grace and care, the inspiration that Madrasi Kaapi House strives to live by.

Durgamma represents the nameless Sheroes of India who have transformed themselves from bread bakers to bread earners, the daughters pursuing ambitions in a male-dominated world and mothers taking up flextime jobs to showcase their exceptional managerial talent.

Durgamma is of the people, by the people and for the people of the World!

Our Team
You'd Love Interacting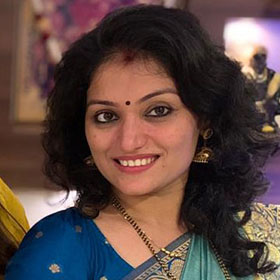 Smita Alke
Co Founder
A fun loving passionate danseuse n a connoisseur. A splendid anchorwoman with exceptional connect with people across fraternities.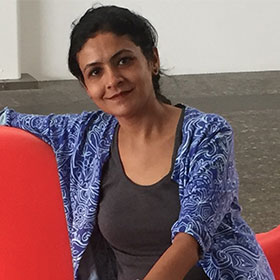 Simran Venkat
Co Founder
A post graduate in early childhood education n a foodie at heart. Conversationalist with excellent client relationship n management.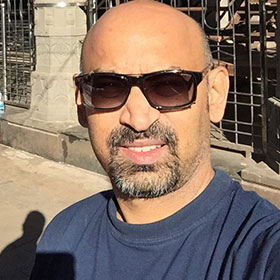 Venkat Shiva
Management Consultant
A wildlife enthusiast n adventure travel wayfarer. Passionate epicure & a trained mixologist.
The Gallery
Take a Look Inside!
Contact Us
Savor some delicacies, today!